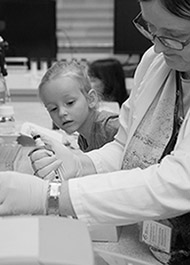 In accordance with the Jožef Stefan Institute's mission that we are realizing through awareness raising amongst the public, especially the young, of the growing significance of science and technology, we wish to bring the Institute closer to the youth, especially by inviting school groups into the Institute's rooms and laboratories.

To this end, we have prepared various possibilities for visiting our Institute:


Visits to the Jožef Stefan Institute

Open Week at the Jožef Stefan Institute

Offer for Mentorship for Student Research Projects



In case of any questions write us at tehnologije@ijs.si. We will be glad to help you!